Kashmir, in the mindshare of many, is associated with pristine , unparalleled beauty that has incubated its arts and crafts. Jammu and Kashmir handicraft industry does not need an introduction to the world. The artisan of Kashmir are well known for their craftsmanship world over be it Wood carving, Shawls, Carpets Papermachie or any other craft Kashmiris have no parallels in this industry when it comes to authentic Kashmiri handicrafts.
The handicrafts industry in Kashmir remained a key economic activity in creating employment in this Himalayan region of Asia. for centuries Kashmiri artisans men and women worked day and night to create marvelous art pieces for this industry. These artifacts had a golobal market and are still in demand world over.
Handicrafts in Kashmir flourished after Shahi Hamdan a highly revered Islamic preacher came to Kashmir with his disciples from Hamdan central Asia.
His disciples trained Kashmiri people in different arts and crafts due to unique climatic conditions of Kashmir. The valley of Kashmir used to remain cut off from rest of the world in winters due to heavy snow fall and people preferred to stay indoors in freezing temperatures. Handicrafts was something that they could easily do by sitting at home during winter months so the industry picked up quickly and Kashmiri people are known to be good learners.
Cold winters is a amjor reson for people staying and working indoors. Like Carpet-making is an arduous, time consuming task and Kashmir carpets, following the Persian styles, or Shawls weaing, Embrodiery Work, Tila Sozi, Ari Work etc are a case in point that mostly of the handicratf work is done at home during winter time.
In the sixteenth century Mughal period, however, there was a boom in the popularity of Kashmiri shawls in the country. Primarily worn by Kings and royal courtiers, the uniquely gifted work of many weavers found its ways beyond South Asia in this period. It was only in the mid-1800s, that the Kashmiri shawls became popular among the European elite mainly the French. In the late eighteenth century, the industrial age appeared, which bestowed a certain global acknowledgment of this ancient Kashmiri art-form.
Emperor Akbar was a great admirer of the shawls of Kashmir it was he who began the fashion of wearing them in duplicate, sewn back to back so that the under surfaces of the shawls were never seen (Do-shalla). During that time the most desired shawls were those working in gold and silver thread or shawls with border ornamented with fringes of gold, silver, and silk thread.
There are nearly 2.50 lacs artisans directly dependent upon handicrafts in the State for their livelihood and there is still great potential for more employment to be generated in this sector if markets are expanded and demand is increased. Presently, Kashmiri handicrafts earn around Rs.1700 crores as foreign exchange every year.
Each region in Jammu and kashmir has its distint arts and crafts. Jammu is also worth checking out for silver and golden jewellery of traditional Dogri design, elaborate Kashmiri items or designs worn by the nomadic 'Bakarwals'. The major craft in the Ladakh region is Tibetan Carpets, which are reasonably priced and are very durable compared to Kashmiri or Persian carpets. One can also look for Chang and tea-vessels, silver cups and butter churns or the mussel shells, which serve as ornaments.
15 Unique handicarfts of Jammu & Kashmir

Paper Machie
Wicker Work
Tila Sozi
Embrodiery
Crewel work (Ari work)
Walnut Wood carving
Shawl Weaving
Carpet Weaving
Copper Ware
Namda Weaving
Pottery Work
Phool Kari
Basolhi Miniature Paintings
Chain Stitch
Calico Painting
Wood Carvings: Walnut is the most widely recognized Walnut wood utilized for carving. Walnut is famous for its Boxes, Table, Chair, Beds, etc. Magic Box is one of the unique design with Secret lock which is designed by kashmiri artists. Kashmiri Dining Table/ Beds is famous for its hand carved design. Kashmir is the main part of India where the walnut tree develops. Its shading grain and sheen are extraordinary, and the carving and worry work that is done on this wood is of the best quality. Walnut wood from the root is relatively dark, and the grain here is significantly more articulated than the wood of the storage compartment, which is lighter in shading. The branches have the lightest shading, relatively blonde, and have no detectable grain. The inborn worth of the wood from each piece of the tree contrasts - wood from the root being the most costly. walnut Wood carving in Kashmir.
Kashmir Carpets/ Rugs : It is said that Sultan Zain-ul-Abidin brought carpet weavers from Persia in Around 1420-30 and central Asia in to Kashmir to train the local inhabitants. Sultan Zain-ul-Abidin was 08th King of Kashmir. The carefully assembled carpets of Kashmir are well known all through the world. In spite of the fact that very costly, Kashmiri rugs are an advantageous deep rooted venture. Aside from being constantly high quality, another nature of Kashmir carpets is that they are constantly tied, never tufted. The art of carpet weaving did not start in Kashmir, rather it is accepted to have been obtained from Persia. Carpets weaving in Kashmir was not initially indigenous but rather is thought to have come in by method for Persia. Till today most outlines are particularly Persian with neighborhood; varieties. One case, nonetheless, of a run of the mill Kashmiri outline is the tree of life. Persian plan not withstanding, any cover woven in Kashmir is alluded to as Kashmiri.
The origin of hand knotted carpets locally known as "Kal baffi" dates back to 15th century after which it progressively attained the high degree of perfection. It is said that Sultan Zain-ul-Abidin brought carpet weavers from Persia and central Asia in to Kashmir to train the local inhabitants.
Carpets from 200 knots to 900 knots/sq. inch both in wool & silk yarn have attained such excellence that they rank amongst the finest in the world. The loom used in Kashmir carpet weaving is composed of two horizontal wooden beams between which the wrap threads are stretched, one beam in front of the weaver and the second behind the first. The difference between a carpet and other hand woven rugs lies in the fact that short lengths of the thread or yarn are tied to wrap chains to form the pile of the carpet. These are commonly called knots though it is a loop rather than an actual knot.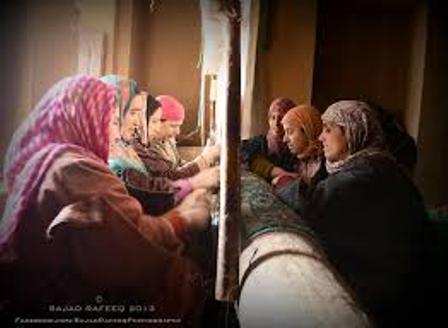 There are different types of knots and in Kashmir the Farsi baff and the Persian system known as Sehna, or Sinneh, knot is originally used. Very simple tools are used to thread these knots, a wood or Metal comb to push knots and weft tightly together and pair of short scissors to cut the pile of the carpet to an even form once it is finished.
Kashmir Wagu (Kashmiri Grass Rug )
Wagu is very famous Rug in Kashmir The Wagu is made up of a special type of grass which grows in wetlands and lakes in Kashmir known as "PECH". They use dry strips of "Pech" to made "Wagu".
Wagu is oldest tradition in Kashmir. Pech is also used for floating gardens in Dal lake, this rug is put over water to float and asmall layer of soil is added on top with seeds thus you get floating vegetable gardens.
After moder carpets replaced with Wagu Wagu art is almost Finish but some how people's of Kashmir trying to keep live his traditional art even in Twenty century there is place like Dal Lake, Walur, Nigeen were you can find some family are still attached with this art.
HandMade Kashmir Shawal: The word shawl is derived from Persian "shal", which was the name given for a whole range of fine woolen garments. The shawl in India was worn folded across the shoulder, and not as a girdle, as the Persians did. Shawls are worn and used as a warm protective garment all over north India today, Kashmir has become synonymous with shawls all over the world. The Mughal emperor Akbar was greatly enamored by the Kashmiri shawls and the way it was worn, folded in four, captured his imagination there many many design of Kashmir shawls like Kani shwals, Pashmina Shawls, Jamawara, Needle Work, Hook Work Shwals, and Akber favourite shwals is Pashmina. Pashmina is the finest Softest and Warmest fabric found in natural, It Comes from the underbelly of the Capra Hircus goat. Capra Hircus any of various breeds of goat raised for milk or meat or wool. domestic goat. Capra Hircus goatlives in himaliya's 14,000 above the sea leave in jammu Kashmir Region. Each Pashmina hair 1/6 the diameter of humain hair.
Chain Stitch - Natively known as "Jalakdozi", chain stitch rugs are the speciality of Kashmir. These rugs are made on "hessain cloth" or hand made cotton cloth, in continued stitch with superior woolen or silken yarn, with the help of a hook type tool natively called "Aurah".
The designs range from floral patterns to animal and human forms traced by a designer, while the craftsman embroiders in two-ply or three ply woollen/silken yarn. The rug looks like a carpet in which the pile is substituted by the texture. Chainstitch rugs is used both as floor covering and wall hanging.
The rug is supported with cloth-lining to add to the durability. It comes in sizes 2x3, 3x5, 6x4, 6x9 and 9x12 feet.
Crewel -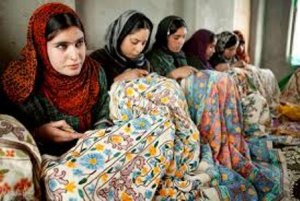 A special kind of embroidery done with a hook known as crewel is commonly used for drapery and upholstery. Rows of chain stitch done with hook from solid patterns usually rotating from centre & creating an embossed effect to add richness to the textile.
Crewel embroidery is done on thick material popularly used for furnishing and usually carries floral and creeper designs. The designs are available in assortment of colours ranging from a single colour to multi colour embroidery. The width of the material is 54 inches and is available in running meterage. The price is related with the amount of embroidery done on the material. This craft is also available on bed spreads in various sizes ranging from single to king size.
Namdha - A hand made felt rug that makes excellent floor covering, made of unspun wool or wool and cotton pressed and felted in specific proportions, the rug originally came from Yarkand, Sinkiang and stayed to become an indigenous craft.
The felt is embroidered with a hook in bold designs and assortment of colours. The sizes range from 2'x3', 3'x4', 4'x6' to 6'x9' feet and 3',4',5' 6' dia in round shape. The quality depends upon percentage of wool in the felt, popularly made quality is 32% wool, 50% wool and 100% wool.
Phool Kari
Phool Kari - A traditional craft, recently revived, is Phoolkari, Bagh or Shaloo embroidered in the phoolkari style was an essential part of the bride's trousers till only a few decades back. A craft with its origin in Punjab Phoolkari, as the very name suggests is a style of embroidery of floral designs. The present day designs, however, are by no means limited to flowers alone and include a variety of other patterns.
A variety of Phoolkari items like handkerchiefs, table covers, sofa and cushion covers, bed-spreads and wall hangings are now being produced on large scale that testifies to the increasing popularity of the craft among the local population.
Kangri/ Kanged (Winter wife in Kashmir)
Kangri/ Kanged is famous for its Heating purpose in Kashmir During the winter Kashmir temp down upto -15 Kangri is know as Winter Wife. Kangri is made of two parts Wicker and earthenware (made of very hard baked clay) which is skilfully covered by wicker. You can fill Earthenware with Coal.
Basoli Minature Paintings:
Basoli is a town located in the foot-hills of Shivalik mountains in Kathua District of Jammu Division. In the late 17th century, Basoli emerged as a great centre of painting. According to well known Dr. Herman Goltz, "Basali painting are among the great achievements of Indians". Their central inspiration is vashnavism, the themes have been taken from the epics and the puranas.
The different themes of the paintings are religious (Gita Govinda and Ramayana), secular, historical, contemporary and literary. Besides the paintings bring out extreme emotion combined with a lyrical sense of Basoli landscape.
Basoli paintings are said to have been described as Poems in colours. The paintings are marked by strikingly blazing colours bold lines, rich symbols and peculiar features giving an accumulative impact of highly sensuous environs.
Calico Painting - Samba, a small town about 40 kms from Jammu, on Jammu Pathankot highway is a well known centre of Block Printing. Calico Printing enjoys a wide popularity. Printing in vegetable color with help of wooden blocks on hand woven cotton cloth is being used as cool, comfortable, floor/bed coverings and are in great demand.
Ladakh Carpet
The carpet of Ladakh is indigenous to that part and has not been introduced from outside. The community of Buddhists inhabiting Ladakh mainly, prepares carpets for their personal use. People of the area have been weaving the carpets from very early times. Some opine for the carpets of being oldest. The carpet being the main form of furnishing, is used for sitting during the day and sleeping at night, seat their guests on it, and spread it for ceremonies and feasts.
Women dominance is widely felt in weaving of the carpets. A vertical wooden loom, light in weight is the sole basis on which it is made. It requires simple wedges to tighten and tied the wrap thread which are looped to the beams and tied together. The usual size of the carpet is 3x6 ft known as Khalidan. These carpets are woven by the method of looping knots, known as "Khabdan" in local parlance.
The designs woven into the carpet are generally derived from the religious myths. The motifs are inspired by the Mahayana Budhist symbolism. Dragon motif is quite common. A few more designs like Guanakchagri (Chinese, wall), Khorlo (three wheels), Tashi stak gyat (eight lucky signs), Mentok (flower) and Cha (birds) are also used. The eight lucky signs of symbols are those of lotus, wheel of religion, conch-shell, banner of victory, holy-vase endless knot, pair of golden fish and umbrella in Buddism.
There is one more type of the carpet woven in Ladakh. This is a peculiar type of the carpet, the wrap and weft of the rug used are both of woollen yarn. This is called TSUKDAN in local dialect.
Handicrafts Map of jammu and Kashmir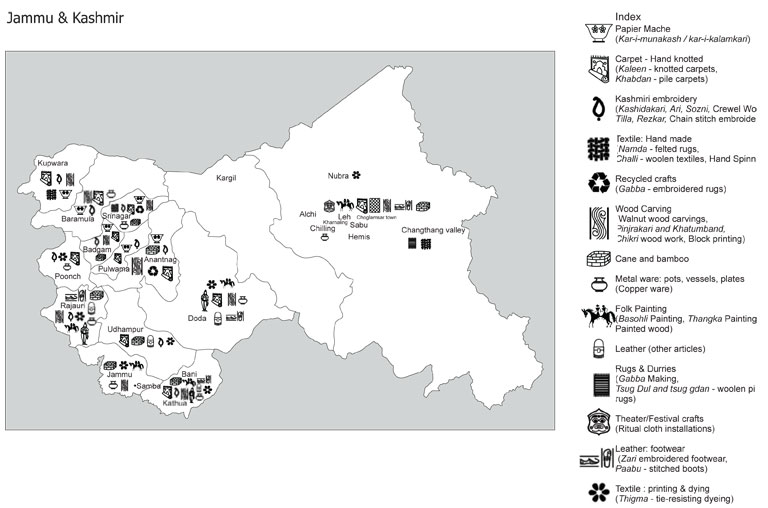 The map above shows the various handicraft activities in Jammu and Kashmir state district wise, this map will guide you which crafts are made in each region and and its sub dristricts
Kashmir Region
Kupwara: In district Kupwara which is the northern district of Kashmir Valley people make Rugs, Crapets, papermachie goods and Kashmiri embroidery.
Baramulla District: this is largest district of the Kashmir Valley and is famous for Woolen and slik Crapet weaving, Embroidery of shawals and stoles, Crewel work, some people also make papermachie goods and wood carving is famous amoung other crafts in this district.
Srinagar
As Srinagar is Summer Capital of Jammu and Kashmir which is famous for its beautiful Gardens & Lakes but we can not miss it's handicrafts sector. Srinagar Famous for PaperMachine, Metal Ware, Shawls, Rugs & Durries, Recycle Crafts, Kashmiri Embroidery, Wood Carvin. Taxtile
Budgam:
Budgam is 45 Kms from Srinagar city its known for Silk and Woolen Carpet weaving Hand Knowtted, Metal Ware, PaperMachine, Kashmiri Embroidery, Wicker and Willow handi crafts.
Pulwama:
It's almost 25 Kms from Srinagar, Pulwama is known for its production of Milk, but people are also engaged with handicrafts like, carpet Weaving, Crewal Work, Embroidery and Willow work. Pulwam is also know for its cricket bat industry you can buy some world class cricket bats from here as kashmir willow is known to be the best with austrualian willow used in makeing of cricket bats. Last but not least the distreict opuklwama is known worldwide for production of Safrom (Kaiser). while travelling on Jammu Srinagar highway you can see Safron fiels on both side of highway at pampore town of Pulwama district.
Anantnag:
Is around 53 Kms from Srinagar. In Handicraft Sector its famous for Wood Carving, PaperMachie, Kashmiri Embroidery, Carpet Hand Knowtted, Recycle Crafts.
Handicrafts of Jammu Division
Jammu/ Samba:
Jammu is Winter Capital of Jammu and Kashmir its 260 Kms from Srinagar via Nasri Tunnel Handicraft: Rugs & Durries, Folk Painting, Cane & Bamboo, Taxtile, Metal Ware.
Kathua:
Kathua district of jammu division is klanow for its minature paintings known as Basooli minature paintings, its belived to be one of the oldesrt schools of art in Basooli, besides that Kathua is also known for rugs and phoolkari work.
Poonch:
Near border area Poonch Sector is famous for Kashmiri Embroidery, Textile, Carpet weaving, Rugs, Shawls and Metal Ware.
Rajouri:
Its 155 Kms from Srinagar Kashmir and 150 Kms from Jammu on the midle of Poonch Highway were Rajouri is famous for Kashmiri Embroidery, Rugs and Durries, Recycle Crafts, Leather footwear, Leather other articals, Taxtile, Folk Painting.
Udhampur:
Udhampur Named after Raja Udham Singh and its nearest Railway station for Srinagar Kashmir to connect other city's Handicraft famous sector Leather other articals, Taxtile, Carpet Hand Knowtted, Recycled Crafts.
Doda:
Doda believed to be named after a migrant from Multan its Approx 145K Kms From Jammu and Just 16Kms from new famous destinations of Jk Bhaderwah.
Handicraft Rugs & Durries, Folk Painting, Taxtile, Metal Ware, Leather other articals, Leather Footwear.
Kathua
Kathua is Surrounded By Jammu North, Himachal Pardesh to East and punjab to South. Kashmiri Embroidery, Rugs and Durries, Recycle Crafts, Leather footwear, Leather other articals, Taxtile, Folk Painting, Carpet Hand Knowtted.
Nubra ( Ladakh ):
Nubra is one of famous destinations in ladakh its 150 Kms from Leh and Leh to Srinagar 400Kms
Only Recycled Crafts.
Leh:
After Removal artica 35A in Sep 2019 and separation with Jammu and Kashmir. Ladakh is a independent state its 400 Kms from Srinagar
Handicraft famous for Handicraft Rugs & Durries, Folk Painting, Carpet Hand Knowtted, Metal Ware, Leather other articals, Leather Footwear, Singing Bowls, Tibitan Tanka Painting.
FAQ