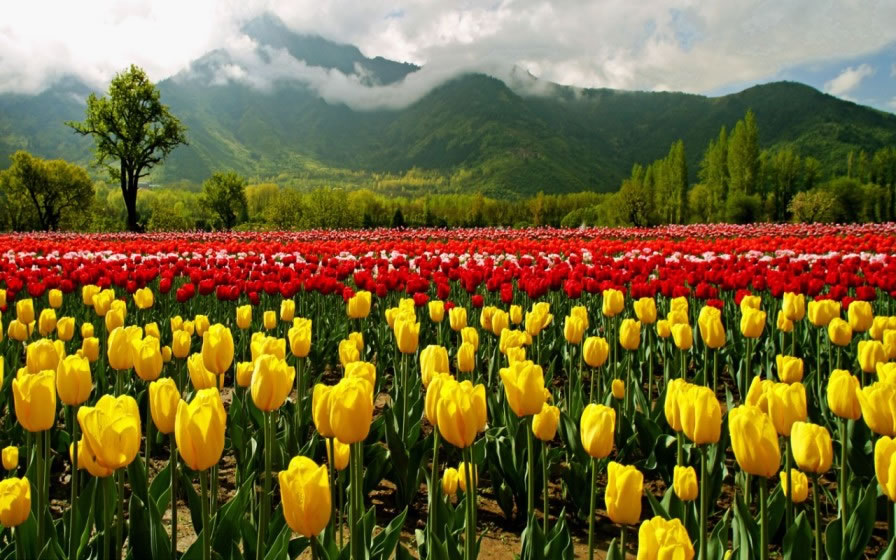 ---
Tulip Garden Sinagar
Kashmir Tulip Garden / Indira Gandhi Memorial It is the largest tulip garden in Asia spread over an area of about 30 hectares With 20 lakh tulips of 46 varieties in its lap. It is situated on the foothills of Zabarwan Range with an overview of Dal Lake. The garden was opened in 2007 with the aim to boost floriculture and tourism in Kashmir Valley. Online Holidays Srinagar brings you best Kashmir Tulip Package to explore the magical beauty of the Tulip Garden, Srinagar in 2021, Kashmir Tour Packages Online Holidays is know as the best tour operator in kashmir and specialist for kashmir tulip packages, Kashmir Tour Packages, Srinagar Tour Packages.
Day 1 Arrival In Srinagar.
Arrive Srinagar, pride of the beautiful valley of Kashmir famous for its lakes dotted with Shikaras and the Mughal Gardens. Transfer to Hotel/ Houseboat. day at leisure, shikara ride to Nehru Park in the evening, Overnight in the Houseboat.
Day 2 Srinagar City Tour.
After breakfast visit the Mughal Gardens , Chashmi-e Shahi (The Royal Spring), Nishat(The Garden of pleasure) & Shalimar Bagh (Abode of Love) and Mainly Visit Kashmir Tulip Garden Asia Largest Tulip Garden. In the afternoon enjoy a Shikara ride on the Dal Lake . Overnight in the hotel.
Day 3 | Srinagar | Gulmarg | Srinagar.
After breakfast full day excursion of Gulmarg - the most beautiful summer resort in the valley. It is popular for its highest golf course and skiing in winters. You can enjoy a pony ride and also enjoy a Gondola ride (cable car) to Khilanmarg (at your own cost).Return to the hotel by evening for overnight stay.
Day 4 | Srinagar | Pahalgam | Srinagar.
Today you will be transferred by road to Pahalgam (94 kms/2.5 hrs) Valley of Shepherds.Enroute you will have an rare opportunity to visit the Saffron fields. Also visit Avantipura Ruins & Anantnag Sulpher Springs enroute, Enjoy the bounty of Nature at Pahalgam, located on the bank of beautyful Lidder River, Return to Srinagar, Overnight in the Hotel..
Day 5 |Srinagar Departure.
After breakfast, transfer to airport for your onward flight back home. Leave with Happy Memories specially from Tulip Garden. ( Online Holidays are always happy to serve you in further Kashmir Tour Packages | Srinagar Tour Packages.
4 Nights | 5 Days |
1 Night Accomodation In Deluxe Houseboat
3 Night Accomodation in Hotel at Srinagar
Full day trip to Pahalgam
Full day trip to Gulmarg
Srinagar City Tour
Shikara Ride In Dal Lake
Full time Shikara For Houseboat Crossing.
| | | | |
| --- | --- | --- | --- |
| Package | Adults | Child with bed | Child without bed |
| Luxury | On Request | On Request | On Request |
| Deluxe | Rs. 14,000 | Rs.6,000 | Rs. 4,000 |
| Standard | Rs. 9,999 | Rs. 5,600 | Rs.3,500 |
| Budget | Rs. 7,000 | Rs. 2,600 | Rs. 2,000 |
Itinerary can be re-arrange to suit hotel availability without changing the total number of days in each destination
The Vehicle is available for point-to-point services only as per itinerary and is not at client's disposal.
Clients are requested to follow the timings in the program.
In case any service is missed due to delay in departure, we will not be responsible for any refunds.
Srinagar vehicles are not allowed to conduct any sightseeing in Gulmarg or Pahalgam and hence sightseeing in these places is not included in the package cost
Kashmir Tulip Festival 2022
Tulip Festival in Kashmir celebrates the blooming season of the magnificent Tulips. Indira Gandhi Memorial Tulip Garden adds to the natural beauty of Srinagar. Nestled on the foothills of Zabarwan Range, the largest tulip garden in Asia presents a stunning view of the Dal Lake. The seven terraced garden was built with the intention to promote tourism and floriculture in Kashmir. Online Holidays Srinagar rings you best Kashmir Tulip Packages for 2022 to explore the magical beauty of the Tulip Garden in Srinagar in 2022.
Once known as the Model Floriculture Center, Tulip Garden of Srinagar is a home to varied species of flowers like daffodils, hyacinths and ranunculus. However, Tulips cover the major area of the space. A walkthrough these sweet smelling flower beds will make you stay here for longer.
A major highlight of the Indira Gandhi Memorial Tulip Garden is the Tulip Festival that is celebrated every year. It is one of the best reason that will compel you to visit this garden.
Commencement and Ending Dates of Tulip Festival
Tulip Festival is hosted in Kashmir Valley during the onset of Spring Season. You can get ready to be a part of it this year as the festival will commence from March/ April 2022 Kashmir Tulip Gaden Package 2022
Major Highlights of the Srinagar Tulip Garden.

Tulip Festival 2021 is a must attend event for the flower enthusiasts, nature lovers, fans, aficionados, tulip lovers, and tourists from around the world. There are many varieties of this amazing flowers, some of them are mentioned below. Let's see how many of them you can find at the Tulip Festival.
Standard Tulips – These are the normal tulips that are available from florists to local gardens.
Double Bloom – Instead of a single petal of standard tulip, double bloom has many layers.
Parrot Tulips – They appear as ruffled petals in various hues depicting the plumage of tropical parrot.
Fringed Tulips – The edges and shape are frilly and fringed.
Bi-Color Standard Tulips – They display a variation in terms of color when compared with the standard tulip.
Rembrandt – pale colored tall tulips
Fosteriana Tulips – They vary in height and have pretty bud.
Lily-Flowering Tulips – These flowers have long, pointed petals with arch at the tips.
Single Late Tulips – Stunning cup-shaped tulips with widest range of colors
Triumph – Wide range of shades, splendid tones and bi colors are the characteristic features of these tulips.
When Will Tulip Garden Kashmir 2022 Be Held?
Tulip Garden Srinagar Kashmir Opening dates for Year 2022 are from 1st April to 30th April. Make sure to keep your calendar free during this time of the year this is only time to see Asia's largest tulip garden in kashmir.
Where is the tulip festival in the india ?
In srinagar Kashmir which is held in every year.

What's special in Kahmir Tulip Festival of 2022 ?.
There are some added attractions in the Tulip Festival of 2022. Nature has bestowed the garden with more varieties of flowers this year. Moreover, visitors can avail the benefits of surplus facilities like free Wi-Fi, more fountains, washrooms (separate for the specially-abled persons) and drinking points.
More green spaces are included in the garden area keeping in mind the comforts of the tourists. Extra plants like daffodils, hyacinths, narcissus and other ornamental plants are planted to ornate the area. Water channel running through the terraces will add charm to the garden.
Visitors will now be able to buy souvenirs and savor Kashmiri dishes from outside the garden area. This will be possible because of the decorated stalls and kiosks exhibiting cuisine and handicrafts of Kashmir.
Places to visit near Tulip Garden
The prime location of the Tulip Garden makes it the most visiting place in Srinagar. This park is surrounded by scenic hills, attractive gardens of Mughal era and most importantly, it overlooks the awe-inspiring Dal Lake. Given below are some other attractions that lie in close proximity.
Chashme Shahi Garden – This garden is center of attraction for housing a natural spring that flows from it.
Pari Mahal – Overlooking the amazing Chashm-E-Shahi Gardens, this historic monument was once a Buddhist Monastery.
Shankaracharya Temple – Soak in the beauty of snow-cladded Pin Panjal Range from this age old temple situated at a height of 1100 feet.
Dal Lake – Dal Lake is truly a paradise on Earth. The beauty of this breathtaking lake is beyond description. A Shikara Ride is a must here.
Nishat Gardens – Spotted at a distance of 3.2 km from Tulip Garden, Nishat Bagh is a home to long avenues of Cypress and Chinar trees, rare flowers and fountains.
Mughal Gardens – A confluence of Nishat Bagh, Shalimar Bagh and Chashm-E-Shahi, this park draws the crowd for its cascading fountains.
Shalimar Bagh – Another well-manicured garden built by Jahangir, a Mughal emperor. Praise the outstanding craftsmanship of the Mughals in terms of horticulture here.
Nagin Lake – The azure waters of this lake are sure to leave you spellbound.
Hazratbal – This sacred Muslim shrine is visited by many on religious occasion to see a relic of heir of Prophet Muhammad. A vibrant fair is held afterwards.
Local Markets – Visit the local market to buy the specialties of Srinagar like leather products, Cashmere Shawls, carpets, mats, rugs, woolen clothes and dry fruits etc.
How to Reach Tulip Gardens
Tulip Gardens are easily accessible from Srinagar Airport. One can reach the garden by hiring a taxi from there. Another mode is to avail the bus services which charge a minimal fare.
Entry Fee
The entry fee to the garden is Rupees 30 for children and Rupees 60 for adults + Gst. (Approx)
Entry Timings
The entry timings are from 9:00 am to 7:00 pm.